5 Ways to Use the Advertising Space You Already Own…
Ways to Use
the Advertising Space You Already Own
Did you know that your fleet of tractor trailers, box trucks, vans and pickups can be your most impactful and cost-effective form of advertising?
Here's 5 ways to use fleet graphics to take advantage of your prime advertising space:
1. Unify Your Brand
Effective fleet graphics and wraps build brand recognition and helps to unify your brand! Fleet branding allows your logo and message to be seen by thousands of potential customers each day. It's uninterrupted advertising that works whether on the road or parked. From a full coverage wrap to spot graphics, whatever your budget, fleet graphics play an important role in your brand's identity.

2. Promotion



Use your fleet of tractor trailers or vehicles to promote your company's new product or service. Short-term, changeable vinyl films are ideal for promoting new products, seasonal campaigns, or short-term sponsorships. Once your campaign is over, these changeable graphics can easily be removed in a few months, or they are warranted for up to 2 years.
3. Driver Recruitment
Instead of a static billboard, use part of your fleet to aid in recruiting drivers. Feature pay, benefits, or driver sign-on bonuses as a full wrap or just on certain areas. If you have existing graphics, consider adding changeable spot graphics onto your permanent graphics. This is a great option to promote short-term hiring events or timely incentives for drivers.
4. Support a Cause
Why not partner with your favorite charity to create awareness or to take part in a fundraising campaign. Since fleet graphics are so impactful at delivering a message to a wide audience, they are a great tool to spread the word, plus charity-related graphics can portray a positive underlying message about your company's culture and core beliefs.
5. Monetize
Have you ever thought about selling that premium advertising space you have to other businesses, partners, or even customers? Create a revenue stream by charging for the ad space or offer the sides of your fleet to your customers as an added benefit for loyal customers. You customers could cover the cost to produce and install their graphics on your semi-trailer. There aren't too many places you can advertise that doesn't charge for the actual ad space.
However you choose to use your most impactful and cost-effective advertising space, the possibilities and options of fleet graphics are endless depending on your goals.
Let TKO Graphix help steer you in the right direction.
OPTIONS FOR FLEET GRAPHICS
We have Fleet Graphics for Every Budget
Since 1985, TKO Graphix has been helping the freight carriers and transportation companies brand their fleet of tractor-trailers, service trucks and company vehicles.
Whether you have a fleet of thousands or just a few, we are here to lead you through our 5-step fleet branding process.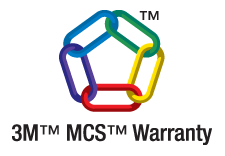 MAKE SURE YOU'RE COVERED.
Not all graphic warranties are the same, and not all graphic manufacturers can offer the 3M™ MCS™ Warranty. It's the best and most comprehensive warranty 3M offers.  As a result of our high standards in quality products and production, TKO Graphix is proud to be a 3M™ MCS™ Warranty provider.
Ready to Get Started?
Contact TKO Graphix for a free quote today.
Ready to Get Started?
Contact TKO Graphix for a free quote today.
For over 35 years, TKO Graphix has partnered with commercial freight carriers and private fleet carriers to provide quality design, production, and installation of trailer graphics and decals. We are proud that hundreds of transportation companies throughout the United States trust TKO Graphix as their fleet graphics provider.