Interested in Results?
Read our TKO Graphix Case Studies.
We followed up and conducted case studies with some of our customers to see how working with TKO Graphix has helped them with the results they needed. Read about the challenges faced and the solutions that we implemented in each project.
Rebranding 17,000 Semi-Trailers
and Tractors
An international shipping company approached TKO Graphix about rebranding and installing decals on over 17,000 semi-trailers and tractors, located in 17 locations, all within eight months. When others say it can't be done, it's time for a "Knockout."
Read about the results of this huge fleet rebrand!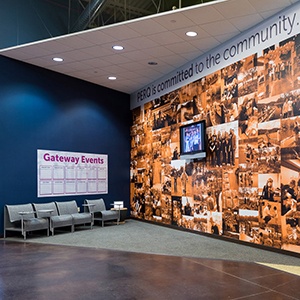 Workspace Rebrand with
Wall Graphics
PERQ, a hip Indianapolis marketing company wanted a fresh workspace with the help of wall graphics. They knew what they wanted, but turned to TKO Graphix to manage the project, printing, and installation of the graphics, which freed PERQ to focus on what they do best—marketing.
Read more about how this funky space was completed seamlessly.
A New Look for an
Established Brand
Horace Webb first installed cooling units in Fort Worth, TX in 1941. After many years, and with a competitive market, they felt it was time for a rebrand. So, Webb Air Heating & Cooling turned to TKO Graphix for help.
Read about this HVAC company's new look with a slightly vintage style.
Unifying a Small
Business Brand
Over the years many types of graphics had been designed by various graphics providers for MRS, which consequently made their brand look disjointed. Wanting a change, MRS Heating & Cooling came to TKO Graphix with a challenge; update all their graphics with a new cohesive design.
Read the details on how we changed their branding, top to bottom, from fleet graphics to business cards!