Telling your story with vehicle graphics only makes sense. People love stories – we all do. Since we were children gathered around our teacher or our parents anxiously awaiting the outcome of a tale, we have enjoyed stories.
We love stories in TV series, movies, and books. People have appreciated stories all the way back to the caves when hunters came back to the camp and shared the tales of their hunt. We love stories. It's part of who we are.
Why Telling Your Story with Vehicle Graphics is a Great Idea
Telling your story with vehicle graphics is a win-win. Not only do vehicle graphics present your business as professional, but when your vehicle graphics tell a story, they do so much more. Marketers have long known that if you want to share a compelling message, share a story. Here's what sharing your story on vehicle graphics accomplishes.
Increased recall – people can easily forget a logo, but it's much more difficult to forget your story.
Brand Recognition – when your vehicle graphics tell a story, you become more than a pretty logo. Your business becomes recognizable.
Empathy – people can relate to stories and put themselves in the narrative.
Retention – people who see your marketing, whether on banner ads or vehicles, will retain a story much longer than a name without a story.
Understanding – by telling your story, you give people a better understanding of your business and the problems you solve.
Inspiration – a company brand without a story seldom inspires people to action, but a story can move people to act.
Telling Your Story with Vehicle Graphics – Where Do You Start? 
Yes, telling your story with vehicle graphics is a great idea, but how can you accomplish this? A basic story format includes character, problem, and solution. If we begin your story in this format, your business is the character so, what problems do you solve, and what is your solution? Schedule a brainstorming session with your creative team and explore the following questions. You may not have an answer for every question, but these questions should get the creative juices flowing.
What's Your Story?
Who is your company?
What is your company culture?
What contributions do you make to your community?
What problems do you solve?
Who do they help, and how do they help them?
What's your solution?
What does the problem look like when it's no longer a problem?
How do you resolve the problem?
Telling Your Story with Vehicle Graphics – How?
So, how do you tell your story with vehicle graphics? To begin with, you need captivating visuals. The most effective vehicle graphics are visually stunning and capture your audience's attention. Next, the visuals need to be large enough to be seen on a moving vehicle. An experienced vehicle graphic design team like the TKO Graphix design team can help you achieve both. Now, you're ready to create your character and share the problems you solve. It's time to tell your story. Here are a few examples.
What story does this vehicle graphic tell? Not only is the story clear but it is compelling. Do you want to quit smoking? Do you know someone who does want to quit but hasn't been able to? Have they tried hypnosis? This is a great example of telling a captivating story with vehicle graphics. You can read more about this wrap and the company here, The Winslow Hypnosis Chevy Equinox Wrap Saves Lives
Gee, I wonder what Versteel does? Could it be they make office furniture? Not only is it a visually attractive graphic but it tells an immediate story on the sides and the back of the box truck. You can watch a video about this wrap here, Versteel Box Truck Wrap.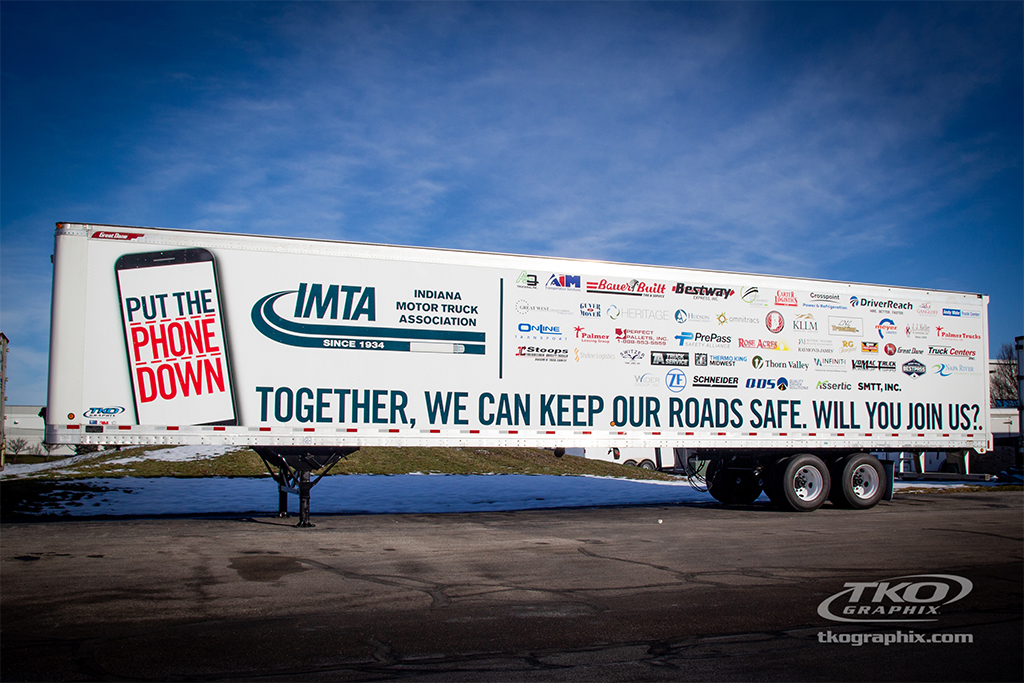 Here's what  the IMTA had to say about this trailer wrap. "Help us keep Indiana drivers safe on the road. With the rise of the IMTA license plate renewals and sales, heads will turn (from looking at a phone while driving) to see the "PUT THE PHONE DOWN" plate on Indiana vehicles and motorcycles. The BMV has sold or renewed a record 3,735 plates as of November 2018. Thank you for believing in the IMTA and being a part of this important message." —   IMTA (Indiana Motor Truck Association) Postscript: The legislation passed
How compelling is the back of this work truck? If you were behind this truck would you remember it? The waving service person for Effective air looks like the kind of person you want to invite into your home for all of your heating and cooling needs. The full wrap shares the work they do and brands they offer, once again—effective. But it does more than that, it feels comfortable. It tells the story of friendly service offered by expert technicians. Read more about it here, Effective Air an Effective Work Truck Wrap
Seriously, this van wrap is adorable partly because it tells a story. Just look at those sweet eyes staring right back at you. I'm a cat person, but that dog's pretty darn cute as well! The entire wrap tells a story, the animals grab your eye, and "We Transport" captures your attention. The contact information, phone and web address are front and center. This van works and so does the wrap. Read more here, Low Cost Spay and Neuter Clinic Van Wrap
If you'd like further information or advice, be sure to Contact Us. If you'd like a free estimate for your fleet or vehicle graphics, you can GET A FREE QUOTE.
TKO Graphix is a national fleet and vehicle graphics company helping customers since 1985. We provide full-service graphic design, digital printing, screen printing, graphics installation, and removal of vehicle graphics.