TKO Graphix knows fleet graphics! Yes. We. Do. We've been doing fleet graphics for more than 35 years, and we do a lot of them — more than 50,000 per year. We are a full-service provider, which means we can help you with every facet of your fleet graphics journey: design, preparation, print, and installation. TKO employs more certified vehicle graphics installers than any provider in North America, a team of designers with years of experience, and a customer service department that is highly rated. Here are a few of the fleets we've worked with to give you a clearer idea of what we do.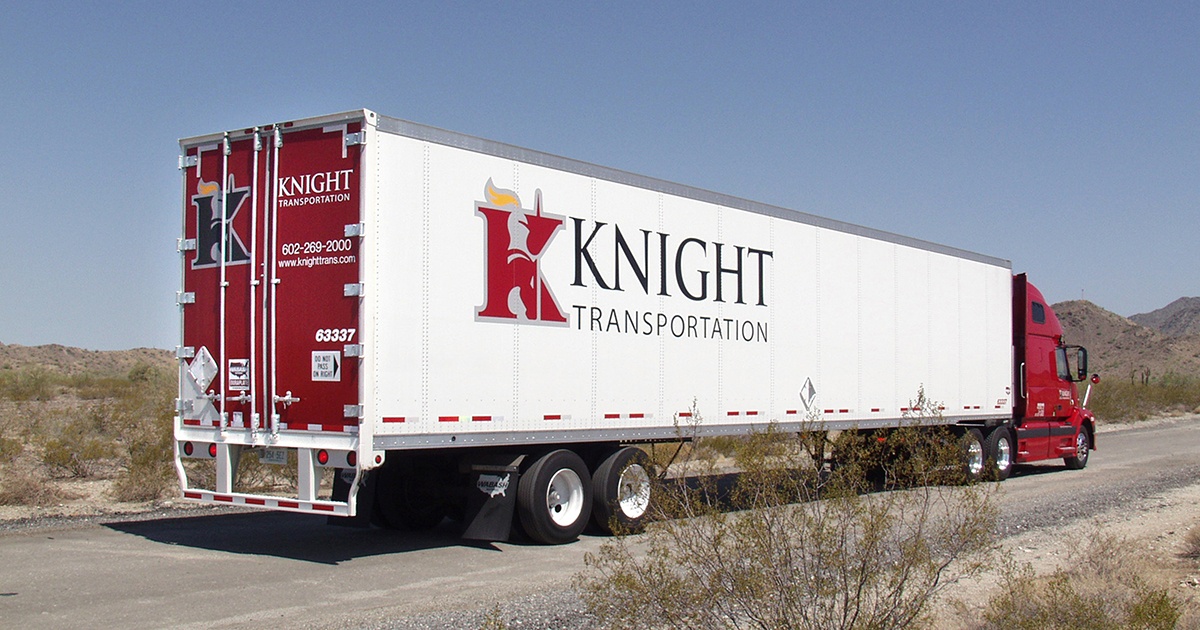 The Knight Transportation fleet graphics are hard to miss. I can't tell you the number of times I've been cruising the highway with my wife when I pointed and shouted, "That's a Knight truck! we did that!" To which she always answers, "Yes, dear I know. It looks great."
This is a great example of  how keeping fleet graphics simple can be the most effective way to design them. It's clear who they are and what they do. Did you notice the contact information is on the rear of the truck? Think about that the next time you're behind a semi on the interstate.
"The Hurst Beans full wrap, which means both sides, and the rear of the trailer are completely covered with adhesive vinyl graphics. The background shows a field of beans, row after row of green plants against a baby blue sky. The message is clear. This is good for you. It's healthy, nutritious, and it tastes good. The logo of the 15 Bean Soup bag is recognizable to anyone who has traveled the bean aisle in most grocery stores. It adds instant recognition to the design. Now the message becomes it's Hurst Beans that are good for you and good to eat. This wrap sends a positive message, and if you're like me when I saw it, I was ready for some beans and cornbread. I made enough to take some to my dad." — Hurst Beans Full Wrap 
"The wrap is effective because it tells a story in pictures, shares contact information, and uses copy effectively. The copy explains what they do and who they are. It's all tied together with striking images, good use of color, highly readable fonts, and a nationally known logo. It works." — Jasper Engines, Good People, Fun Wrap
"For the last several years, TKO Graphix has completed full wraps on Goodwill Industries 53 foot trailers. The wraps have reflected the public service campaigns and marketing initiatives of Goodwill industries. The full wraps are always eye-catching, creative, and filled with calls to action. Goodwill is a pleasure to work with; it's an organization TKO Graphix is proud to be associated with." — Goodwill is More Than a Store, Much More
"The Bryant Iowa Fleet graphics do everything they're supposed to do.
Captures attention – The straightforward design, simple but elegant layout, as well as the use of colors and contrast, catches the eye.
Tells a story – The images of heating and air-conditioning units used as the background make it clear what and who this vehicle represents.
Shares contact information –The web address, and phone number are accessible and easy to read.
Adds credibility – There might not be a more trusted name in HAVC than Bryant. It's hard to miss the Bryant name and logo; it's on every side of the vehicle.
Lists of products and services – Residential, commercial, installation, service, and maintenance. It's all right there plain as day." — Bryant Iowa's Fleet Graphics
"The Speedy Café Ford Transit wrap is enticing. When I first saw it, I didn't know what it was about, but I wanted to know. And I wanted to know because the wrap is gorgeous, no, that's not quite the word. It's appealing, or better yet, it's alluring. I wanted to know what it was, and isn't that a good thing for fleet advertising?
The colors on the wrap complement each other from the red pixelating into a deep garnet red. The Red and Dijon Mustard yellow swirls around the logo make the logo pop. Placing the tagline, "Fresh, Fast, Fun" obliquely with, "That's How WE Roll" printed down the side captures attention. This is how to wrap a fleet vehicle, eye-grabbing while sending a message." — Photo Blog Speedy Café Ford Transit Wrap
"Wow, this vehicle wrap pops! And that may be an understatement. The Orangetheory Fitness wrap has it all: branded colors and fonts, white lettering on the orange background that stands out. The design fades effectively from the branded orange to images of trainers and members. Like I said, this wrap pops.
The contact information is easy to find and to read. An interested prospect doesn't have to search for it. The images use all the space possible, including the windows. One can almost hear the heartbeat of the gym while looking at the photos of trainers and trainees. Did I mention this wrap pops?" — Photo Blog: Orangetheory Fitness Wrap
"TKO Graphix printed the warp for this 53-foot trailer on our Hewitt Packard Scitex TJ3800 Turbo Digital Printer. This printer allows us to print graphics in great detail with multiple images, fonts, and colors and get the job done when needed. We used Avery 1305 adhesive vinyl material, and the print was clear coated for protection." — Going Once, Twice—Sold! Mecum Auto Auction Trailer
"The colors, design geometrics, and font on Co-Alliance tanker graphics combine to make an unforgettable logo. Any business, farmer, or vendor involved with Co-Alliance immediately recognizes the brand. Whether it's displayed on a monument sign, printed on stationery, installed on vehicles (or tankers)—it's one of a kind.
 What makes it work? To begin with, it's bright and eye-catching. With stylized farm fields and a radiant sun, even those unfamiliar with the organization understand it's about agri-business. It's simple, straightforward, and effective. There are no wasted words or images." — Featured Customer: Co-Alliance Tanker Graphics
"Tuttorosso is Italian for all red, and that describes their products, as well as their tractor-trailer wraps. While the trailers may not be all red, it certainly is the dominant color. One glance at the semi-trailer, and you know it's hauling the freshest, ripest, and reddest tomato products. You see it and think fondly of your grandmother's pasta, and that's what a full trailer wrap is supposed to do." — The Tuttorosso Trailer Wrap is All Red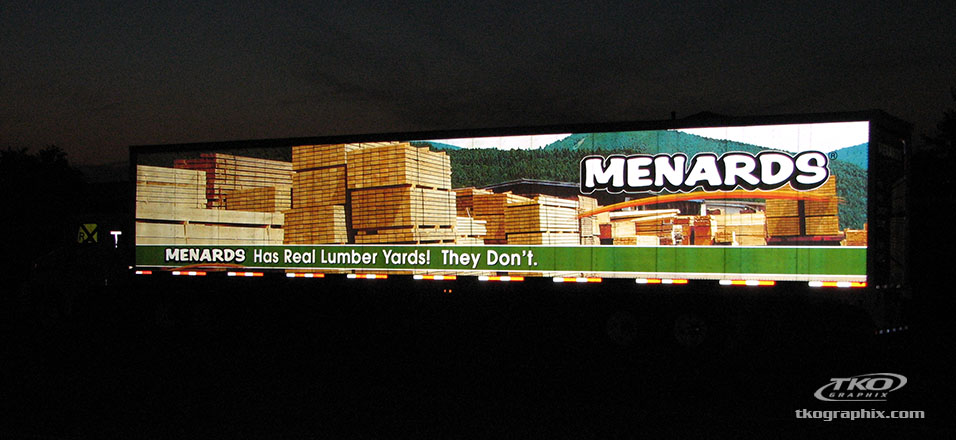 Menards uses many designs. "We've covered trailers with patio furniture, assorted interior, and exterior home remodeling projects, and the rolling lumberyard pictured here. What makes these varied graphics similar? The design format. The Menards logo and font are always prominently displayed, and the layouts, though varied, are similar. The next key to their brand recognition isn't so obvious – it's their use of green. Menards uses the same shade of green in much of its web, collateral, media, and vehicle advertising. The green has become branded to them. Without knowing it, we may see this green and subliminally think of… Menards." — Photo Blog: Menards Trailer Wraps
"At first glance, one might wonder if this 53' semi-trailer wrap is sponsored by Rural King, Redbrand Fencing, or the FFA. Although it's Rural King's trailer, the wrap promotes all three brands/entities. We've wrapped a dozen trailers for Rural King, but unlike most fleets, each Rural King trailer is wrapped with a different design. Rural King partners with suppliers and co-promotes products, which are available in Rural King outlets." — Photo Blog: Rural King Truck Graphics
"We like Red Gold. A lot. What's not to like? They're an Indiana based company with a great story. They have colorful and fun trailer wraps. You can't miss them, and we've been privileged to help them with both truck graphics and signage. They're a growing progressive company that uses advertising, social media, and vehicle wraps to build their brand effectively. Like I said — we like Red Gold." — Photo Blog: Red Gold Tomatoes Trailer Wrap
"It would've been easy to stop at wrapping the trailer — it certainly is eye-catching, but had it stopped there, an opportunity to show and tell would've been missed. Here's the takeaway: before committing to a wrapping any vehicle as part of a marketing campaign, consider all your vehicles, what they're used for, and how they might add to the effectiveness of the advertising." — Photo Blog: Geico Powersports Wraps
TKO Graphix Knows Fleet Graphics 
Yes, TKO Graphix knows fleet graphics, and we know what our customers need. Whether you need help with design, preparing your fleet vehicles, choosing the best materials for your fleet, or professional installation, we're here to help. We can help you with any part of the project or all of it. If you'd like to discuss the future of your fleet graphics, Contact Us